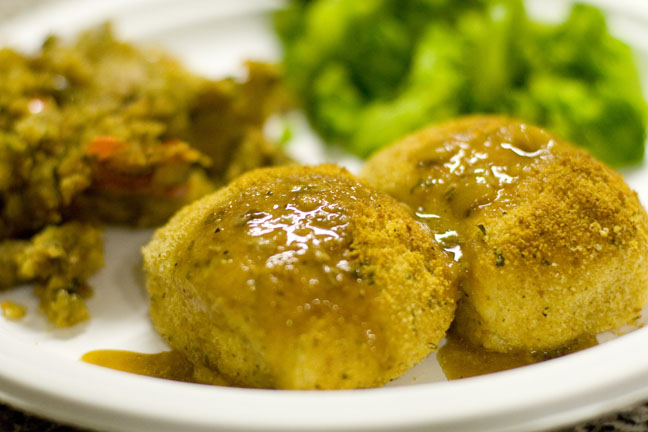 We have many names for this in my home. Turkey Bundles, Turkey Pockets, Turkey Rolls. Whatever we call it but it = MAJOR YUMMY DINNER!!
I actually make this more than once a year. I boil up some chicken breast and will make a few times in fact.
This recipe is MY all time favorite!!! Since I was little. Mom made it all the time. She will even make it for me now!!
Cream together and Soften:
8 oz cream cheese
1 tablespoon chives
¼ cup butter
⅛ teaspoon pepper
Additional Ingredients:
2 cans cresent rolls
⅔ cup pepperidge farm herb seasoning stuffing, crushed.
4 ounce drained can mushrooms
2 cups boiled and cubed cooked chicken*, boneless/skinless
⅔ melted butter in a bowl
–Fold in 2 cups cubed cooked chicken and mushroom pieces and stems into creamed mixture.
–Unroll 2 cans crescent rolls. Spread out and place ¼ cup filling on each on each. Start with point of the roll and seal edges. Dip in ⅔ cup melted butter and then in mixture of finely crushed pepperidge farm stuffing. Place on greased 9×13 pan. Place chicken rolls next to each other in pan. Cook for 20 minutes at 325 degrees. Serve with Chicken* Gravy.
* You can substitute chicken for turkey.
FEW CHANGES I DID THIS TIME….
1– I had the SMALL cans of crescent rolls. Where there is only 4 in pack (they were on sale at publix with a coupon for free!!)  So I had to use 4 cans vs 2.  It needs to make 16 total.
2– I used panko italian bread crumbs vs crushed up pepperidge farm herb stuffing. I was out of it. I have plenty of bread crumbs also from good Publix deals.
This is a GREAT way to use up any left over Thanksgiving turkey & gravy!
We even ate our sausage stuffing left overs with our dinner.  Just needed to cook up some broccoli for veggies. It was a great/easy meal!!
ONE MORE TIP!!!
Do not get all your cans of crescent rolls out at once. By the time you get to number 16. The dough will be so warm from room temperature it will tear on you.  That is why I like the small cans of 4. I get 1 out at a time. So they stay cool and do not tear. Just a tip.. trust me.. I learned the hard way!!
ENJOY!!!